The Clean Scene: Housekeeping, Mold, & IPM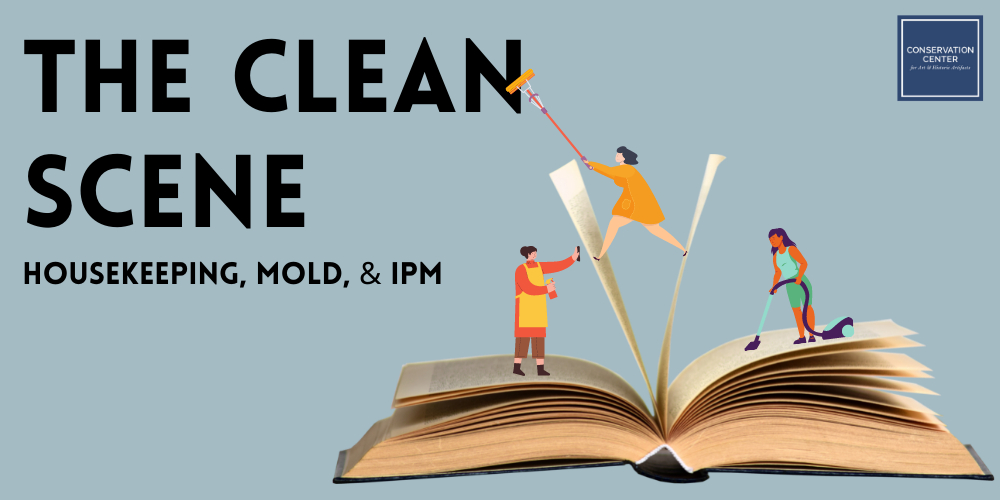 When it comes to collections housekeeping, maintaining the ideal 'clean scene' requires more than just a good vacuum. While cleaning keeps collections tidy and dust-free, regular housekeeping tasks also provide staff opportunity to monitor the state of collections, potentially preventing conservation or budgetary concerns in the long-term. So, get ready to dust off that old housekeeping handbook (and then just about everything else!). Featuring lectures and discussions between preservation specialists and experts in pest management, preventive conservation, and disaster recovery, this month-long virtual course will combine live and asynchronous instruction to examine collections housekeeping through a holistic lens.  
The Clean Scene: Housekeeping, Mold & IPM is presented using Canvas LMS. For the duration of the course, participants will join a virtual classroom where they will have access to pre-recorded lectures, additional resources, and a discussion board for connecting with colleagues. In addition to the asynchronous instruction, each of the three modules in this course will include a live zoom discussion with experts in the field and optional activity. All activities can be completed at home using household items. At the end of the course, all participants will be invited to join a live wrap-up discussion to review content and share next steps.
The virtual classroom opens to participants on September 6th, with new modules released for review each subsequent Monday at 9:30am ET (September 12th, 19th, and 26th). Following the release of course content on Mondays, live discussions will take place over Zoom on Fridays from 2-3pm ET (September 16th, 23rd, and 30th). The final wrap-up/synthesis discussion will take place at 2-3pm ET on Tuesday, October 4th. Participants will continue to have access to the virtual classroom for six weeks following conclusion of the course.
Canvas LMS is an open and reliable web-based software that allows institutions to manage digital learning, educators to present online learning material, and students to engage in courses and receive feedback. Participants will receive instructions on how to join the CCAHA Canvas Classroom upon registration.
CCAHA welcomes a wide range of audiences, from small, all-volunteer organizations to larger institutions with trained staff. This course is open to all experience levels but is designed to most meet the needs of collections care managers with a foundation in best practices. If you have any questions about the suitability of this program for your experience level, please reach out to Education Programs Manager Stephenie Schwartz Bailey at sbailey@ccaha.org.
Please Note: There are a limited number of scholarships available for this program, which will be awarded on a first come, first served basis. All students and professionals without professional development funds, U.S. and non-U.S. residents, are eligible. We encourage individuals representing diverse backgrounds and identities to apply. 
If you are interested in a scholarship, DO NOT fill out the form below, as payment will be required. Instead, please send an email expressing interest to Preservation Services Coordinator Alanna Shaffer at ashaffer@ccaha.org. 
---
About the Instructors:
MADDIE COOPER, Associate Preventive Conservator @ CCAHA
In her position as Preventive Conservator, Maddie works with both the Preservation Services and Conservation Departments to carry out preservation surveys and assessments for museums, libraries, archives, and community collections, and to work on treatment projects requiring preventive care.
Maddie has worked with a wide range of institutional and community collections. She held roles in conservation and collections at Vizcaya Museum and Gardens and the Wolfsonian-FIU prior to specializing in preventive conservation in graduate school. Through her graduate career, she interned with the Disaster Research Center, the Robert Rauschenberg Foundation, and the Midwest Art Conservation Center. Maddie holds an MS in Art Conservation from the Winterthur/University of Delaware Program in Art Conservation, a BA in Chemistry from the University of Delaware, and a BA in Art Conservation with a minor in Art History from the University of Delaware.
EMILIA BOEHM EMIG, Preservation Specialist @ CCAHA
In her position as Preservation Specialist, Emilia Boehm Emig conducts onsite preservation needs and risk assessments and assists with preservation and emergency planning at cultural heritage organizations across the country.
Emilia has worked with diverse museum collections and exhibitions. She has held roles in collections management, registration, and curation at the Marblehead Museum, The Frick Pittsburgh, and the Senator John Heinz History Center. Before joining CCAHA, Emilia worked as a Senior Project Manager for Crozier Fine Arts.
Emilia received a graduate certificate in Museum Collections Management and Care from The George Washington University, an MA in Archival, Museum, and Editing Studies from Duquesne University, and a BA in History and German from Mount Union College.
DYANI FEIGE, Director of Preservation Services @ CCAHA
Dyani Feige works with libraries, archives, museums, and other cultural organizations to conduct needs and risk assessments, assist in disaster planning, and help develop policy and planning documents for collections. She also develops and presents education programs on preservation and conservation concerns.
Dyani is a member of the Society of American Archivists (SAA), the American Library Association (ALA), the Mid-Atlantic Regional Archives Conference (MARAC), the Delaware Valley Archivists Group (DVAG), and the Mid-Atlantic Association of Museums (MAAM). She is a recognized Digital Archives Specialist through SAA.
Before joining the staff of CCAHA in 2010 as Preservation Specialist, Dyani worked in the Brooklyn Museum Libraries & Archives. She has also worked in the New York Public Library's Preservation Division; for the Conference Board; and in the Special Collections & Archives at Kent State University. Dyani received her MS in Library and Information Science with a Certificate in Archives at Pratt Institute and her BM in Music Business from New York University.
ANASTASIA MATIJKIW, Assistant Director of Preservation Services @ CCAHA
Anastasia Matijkiw works with libraries, archives, museums, and other cultural organizations to conduct assessments and help develop policy and planning documents for collections. She oversees the Documentary Heritage and Preservation Services for New York (DHPSNY) initiative, coordinating education programs, communications, outreach, and planning and assessment programs.  
Anastasia is a member of the Society of American Archivists (SAA), the Mid-Atlantic Regional Archives Conference (MARAC), and the American Association for State and Local History (AASLH). She currently serves as the Vice-Chair of AASLH's Field Services Alliance.  
Prior to joining the staff in 2016 as DHPSNY Program Manager, Anastasia worked at the Historical Society of Pennsylvania as the Surveying & Outreach Archivist for the Hidden Collections Initiative for Pennsylvania Small Archival Repositories. She has also worked in the University of Pittsburgh Preservation Department, the Carnegie Museum of Art, and the Academy of Natural Sciences of Drexel University. She received her MLIS in Archives, Preservation, and Records Management from the University of Pittsburgh and her BA in Near Eastern Languages and Civilizations from the University of Pennsylvania. She has also received a Certificate in Arts & Culture Strategy from the University of Pennsylvania/National Arts Strategies.    
About the Speakers:
MARK AGOSTA, Properties Manager @ Preservation Long Island
As properties manager for Preservation Long Island, Mark oversees the care and maintenance of four 19th- and 18th-century historic buildings with associated outbuildings and landscapes spread across Suffolk County on Long Island. Mark's 40-year career in building maintenance and construction includes special expertise in carpentry, plumbing, heating/AC, electrical and general contracting. He has served as a superintendent of commercial and institutional properties overseeing noteworthy historic buildings and grounds, such as Friends Academy in Locust Valley and Old Westbury Gold & Country Club.
LAUREN BRINCAT, Curator @ Preservation Long Island
Lauren Brincat is the curator of Preservation Long Island, a regional organization with a mission to celebrate and preserve Long Island's diverse cultural and architectural heritage through advocacy, education, and stewardship of historic sites and collections. Lauren has worked in New York museums and historical societies for over two decades, specializing in exhibition and program development, curation, and collections management. She is currently the vice president of the Long Island Museum Association and a member of the museum advisory committee of the Bowne House Historical Society in Flushing, Queens. She previously held positions at the New-York Historical Society and the Museum of the City of New York. Lauren is a graduate of the Attingham Summer School and holds a B.A. in History and Anthropology from the College of William and Mary and an M.A. from the University of Delaware's Winterthur Program in American Material Culture with a certificate in Museum Studies.
ETHAN ESTERBROOK, Research Entomologist @ Insects Limited, Inc.
Ethan Estabrook is an entomologist at Insects Limited specializing in the research and development of pheromone technology and trapping systems of stored product insects. Ethan achieved his board certified entomologist status in 2015 and has over ten years of entomology experience in the stored product industry and cultural heritage. Prior to Insects Limited, Ethan was a regional manager at Fumigation Service and Supply where he provided technical support and integrated pest management solutions for the food, grain, and seed industries. Ethan holds a Bachelor of Science degree in biology from Purdue University and enjoys kayaking, herpetology, and volunteering.
MATTHEW A. MICKLETZ, Manager, Preventive Conservation @ Winterthur Museum, Library & Gardens
In his role as Manager or Preventive Conservation, Matthew oversees and supports the everyday work of the Preventive Conservation Technicians. With a large percentage of Winterthur's collection on display, averaging 90,000, the not-so-small tasks and duties he and his team are responsible for include: object cleaning, pest monitoring, environmental monitoring, lighting maintenance and collection emergency response. He works closely with many other departments in order to complete projects that support the proper care of the collection, as well as the many other goals of Preventive and Winterthur as a whole.
Matthew came to Winterthur Museum in August of 2007 after several years working with Delaware State Parks, assuming the role of a Collections Maintenance Aide. Two years later, he joined the Registration Department as an Art Handler gaining experience in the packing, transportation, installation, and display of a wide array of objects within Winterthur and outside collections. He assumed his current position in 2010, bringing him back into the Conservation Department to lead the then newly renamed Preventive Conservation section –formerly "Collections Maintenance" the very group he began his career with. Matthew received his BA in Art Conservation from the University of Delaware in 2004, minoring in Studio Art. He has been Co-Chair of the MuseumPest Working group since 2017 and member of several professional organizations such as PACCIN, AIC, and AAM.
JOEL VORON, Integrated Pest Management Specialist @ Colonial Williamsburg Foundation
Joel Voron is the full time Integrated Pest Management Specialist at the Colonial Williamsburg Foundation. He also holds a commercial Virginia pesticide applicators license in three categories and is a master termite technician. His top responsibility would be museum pests with regards to the collections. His responsibilities cover over 600 structures encompassing 301 acres all while managing an extensive year round termite prevention program. He is part of the MuseumPest Working Group and is a contributor on MuseumPest.net helping to write IPM best practices and solutions for the site. Recent publications: Bee Culture Magazine; Teaching old Colonial Williamsburg Wild Honeybees New Tricks. Good Housekeeping: https://www.goodhousekeeping.com/home/gardening/a38902355/yellow-jacket-stings-safety/