Fundraising and Promotion for Collections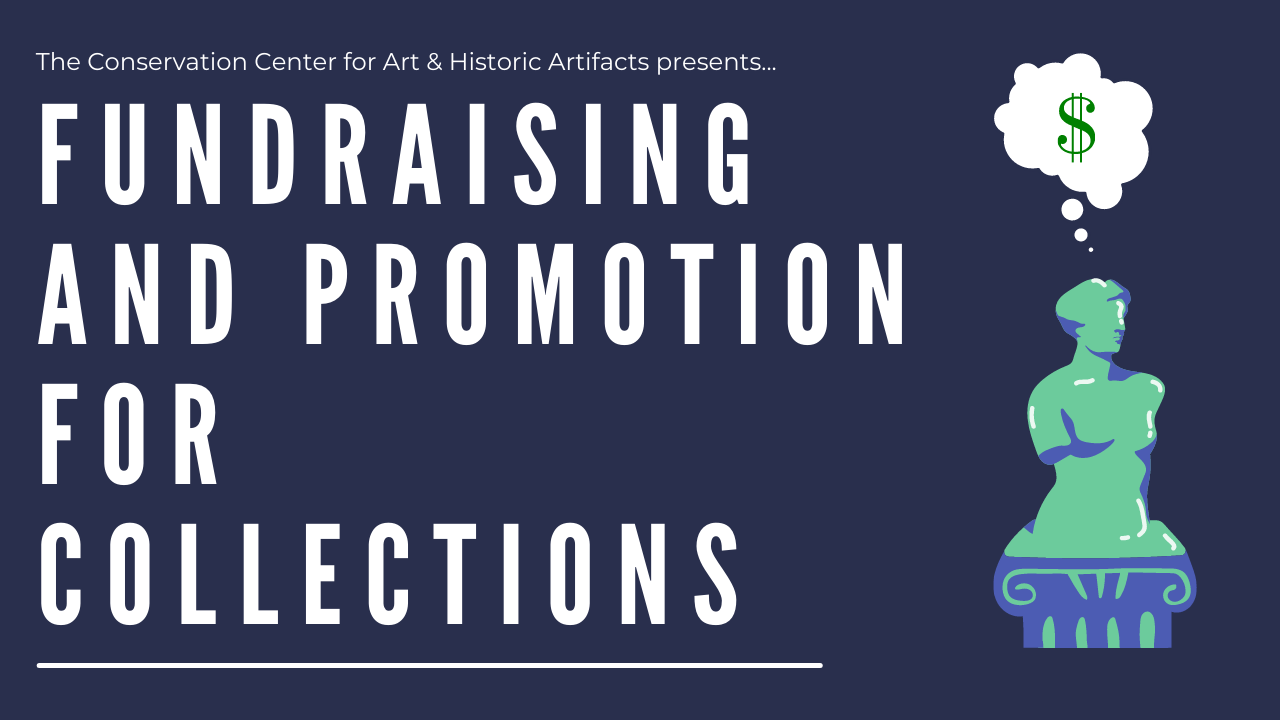 Dream big! Collections-based initiatives often need a jolt of outside funding to succeed. This three-week virtual course will guide participants in how to develop and implement funding strategies that can make your collection stewardship dreams come true. Drawing from success stories at museums, historic sites, libraries, and archives, this course will combine live and asynchronous instruction to examine the advance planning that should support preservation and conservation initiatives, the range of potential funding sources to consider, writing approaches that can make a request compelling, and the art of promoting and leveraging for future success. 
Fundraising and Promotion for Collections is an asynchronous course presented using Canvas LMS. For the duration of the course, participants will receive access to a virtual classroom where they can download resources, watch pre-recorded lectures, and connect with colleagues - all on their own schedule. In addition to the asynchronous instruction, the course will also include three live discussions over Zoom, offering participants the opportunity to ask questions and engage with instructors directly.
The Fundraising and Promotion for Collections virtual classroom will be open to participants beginning November 29th, with new modules released each Monday at 10am EST (December 6, 13, and 20th). The three live Zoom discussions will take place at 2pm EST on Wednesday, December 8th, 15th and January 5th. 
Canvas LMS is an open and reliable web-based software that allows institutions to manage digital learning, educators to present online learning material, and students to engage in courses and receive feedback. Participants will receive instructions on how to join the CCAHA Canvas Classroom upon registration.
---
About the Instructors:
Lee Price, Director of Development, Conservation Center for Art & Historic Artifacts
As the CCAHA Director of Development, Lee is not only responsible for raising money for the Center but also for assisting museums, archives, libraries, and historic sites in raising funding for collection stewardship projects. Since writing his first grant in 1989, he has helped to raise over $100 million in federal, state, and private funding. He has assisted with grant preparation on 25 successful applications to the US Save America's Treasures program.
During his twenty years at CCAHA, Lee has served as data analyst and lead writer on "Connecting to Collections" projects for the states of Pennsylvania, New Jersey, and West Virginia; coordinated the state-wide crowdfunding campaign "Pennsylvania's Top 10 Endangered Artifacts;" and served a five-year term as writer of the "Bringing in the Money" fundraising column for Public Libraries, the bimonthly journal of the Public Libraries Association. Currently, he serves as the CCAHA program coordinator for the five-year "Building Capacity" program of the HBCU Library Alliance, and he provides strategic planning facilitation services for the Documentary Heritage and Preservation Services for New York program. This summer, Lee received the Spotlight Award from the Society of American Archivists for his ongoing work assisting archival institutions throughout the country in their fundraising efforts.
Michelle Eisenberg, Deputy Director, Conservation Center for Art & Historic Artifacts
In her position as CCAHA's Deputy Director, Michelle Eisenberg provides support for a variety of administrative and operations functions, and assists with business development, analysis and planning for new initiatives.
Prior to joining CCAHA, Michelle worked at Schultz & Williams, a Philadelphia-based consulting firm serving the nonprofit sector. Michelle directed operations for the firm's development and interim staffing lines of service, overseeing business development, project management, and talent acquisition. She also served as a consultant on fundraising studies and strategic planning projects, and provided long-term campaign staffing and grantwriting services. Michelle was formerly Associate Director of Temple University's Innovation and Entrepreneurship Institute and held several development roles at the National Constitution Center. During her time at the Constitution Center she prepared successful grant proposals to the Carnegie Corporation, National Endowment for the Humanities, and other national funders. She has an MBA from Temple University and a BA in History from the University of Pennsylvania.
Jason Henn, Manager of Marketing & External Relations, Conservation Center for Art & Historic Artifacts
Jason Henn is responsible for CCAHA's external content. He manages CCAHA's voice and brand strategy, maintaining the website, social media channels, and communications, including enewsletters and appeals. He is responsible for printed publications and promotional materials and represents CCAHA at industry conferences. He also develops and presents programming related to marketing, storytelling, and advocacy for collecting institutions.
In his previous role as Communications Coordinator for the Documentary Heritage and Preservation Services for New York (DHPSNY) program, Jason produced and managed content for DHPSNY's website and social media, wrote about DHPSNY events and activities, and produced the program's brochures and educational materials.
Jason joined the staff in 2016 after working in communications and marketing for the Gershman Y. He received a BA in Music from Earlham College with a focus in Music History.