Let's Talk About That: Dialogue and Change in Collections Care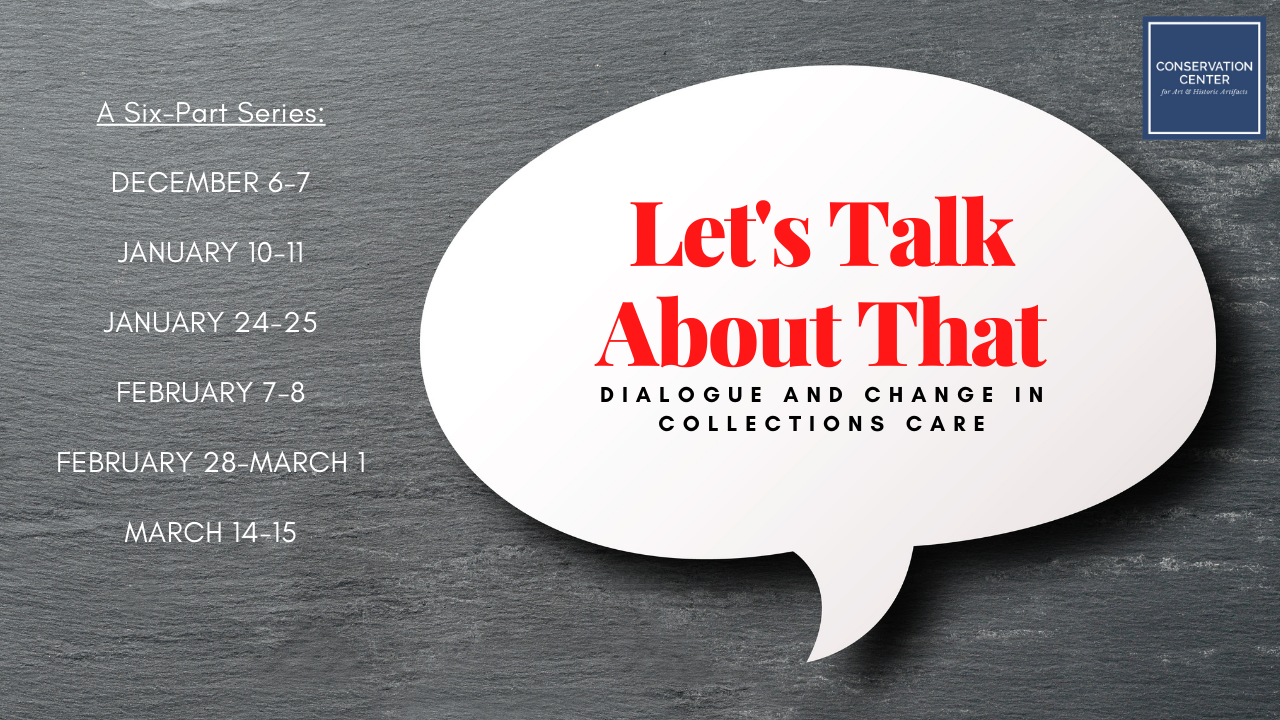 Be a part of the conversation! Join the Conservation Center for Art & Historic Artifacts for our upcoming six-part series: Let's Talk About That: Dialogue and Change in Collections Care.
In March of 2021, CCAHA held its first major event focused exclusively on topics of diversity and equity in the collections care field. Nearly 300 panelists and attendees gathered virtually for the "Many Voices: Diversity in Collections Care" colloquium, highlighting some of the most pressing issues in the field. By the end of the two-day event, two major conclusions emerged: first, that there is much more work to be done. And second, that there is a robust and energized community ready to take it on.
And it's no wonder: As cultural institutions across the world reckon with the events of the past year, confronting - often for the first time - how these issues of equity and access have impacted their own communities, the resulting institutional dialogues have often been reserved only for those in leadership or public-facing roles. Collections care professionals, and others in similarly "behind-the-scenes" roles, are frequently left out of these conversations, despite the tremendous impact of their work in documenting and preserving the world's cultural heritage. The community remains eager and excited to do the work, but without a clear path forward to do so.
This series aims to combine this eagerness with incredible work already being done in the field to begin building a DEIA infrastructure within collections care that can be sustainable beyond this moment in history. The goal is not to present a definitive guidebook on these topics, but rather to build this guide together as a community. Each session will focus on a different issue facing the field and will be comprised of two components: a traditional webinar with a speaker highlighting their own observations in the field, and, the following day, a community dialogue led by facilitator, Sarah Pharaon. As each topic is discussed and processed together, key takeaways will be compiled and used to build a publicly-available resource document to serve as a toolkit for individuals looking to begin or expand this work at their own organizations. 
---
Join us for the following sessions in this series:
Setting the Stage: Understanding Each Other's Different Functions and Goals, Heather Hendry (she/her), Senior Paper Conservator, CCAHA and Alessandro Pezzati, Senior Archivist, Penn Museum 
December 6 and 7, 2021 at 2pm ET
Considering Consumption, Joanna Hurd (she/her), Mellon Paper Conservation Fellow, CCAHA
January 10 and 11, 2022 at 2pm ET
Pronouns at WUDPAC: Effecting Change Between Stakeholders, a Case Study, Margalit Schindler (they/them), WUDPAC Preventive Conservation Fellow and Dr. Joelle Wickens (she/her), Assistant Professor of Preventive Conservation, and Winterthur/University of Delaware Program in Art Conservation Associate Director, University of Delaware
January 24 and 25, 2022 at 2pm ET
Rarely Either/Or: Advocacy from Internal and External Sources, Natalya Swanson (she/her), Heritage Conservator and Mellon Fellow in Objects Conservation at the Brooklyn Museum and Anisha Gupta (she/her), Doctoral Student and Co-Chair of American Institute for Conservation and Foundation for Advancement in Conservation) 
February 7 and 8, 2022 at 2pm ET
Objectivity versus Subjectivity in Description, Kara Vetter, Director of Cultural Resources, Museum of Us
February 28 and March 1, 2022 at 2pm ET
Caring for Collections and Community, Speaker TBA
March 14 and 15, 2022 at 2pm ET
---
Upon registration, you will be asked to indicate which session(s) you would like to attend. Please note that each session in this series includes two components: a presentation/Q&A with the speaker followed the next day by a group discussion. 
Registration will remain open for the duration of the series, so you may return to this page at any time to register for an upcoming session. However, there are a limited number of seats available for this series and registration for a session may close early if it reaches capacity. Registering early is encouraged to reserve your spot, and a 10% registration discount will be applied for anyone who chooses to register now for all six sessions.  
There are also a limited number of scholarships available for this program, which will be awarded on a first come, first served basis. If you are interested in a scholarship, please reach out directly to CCAHA's Preservation Services Coordinator, Alanna Shaffer, at ashaffer@ccaha.org.