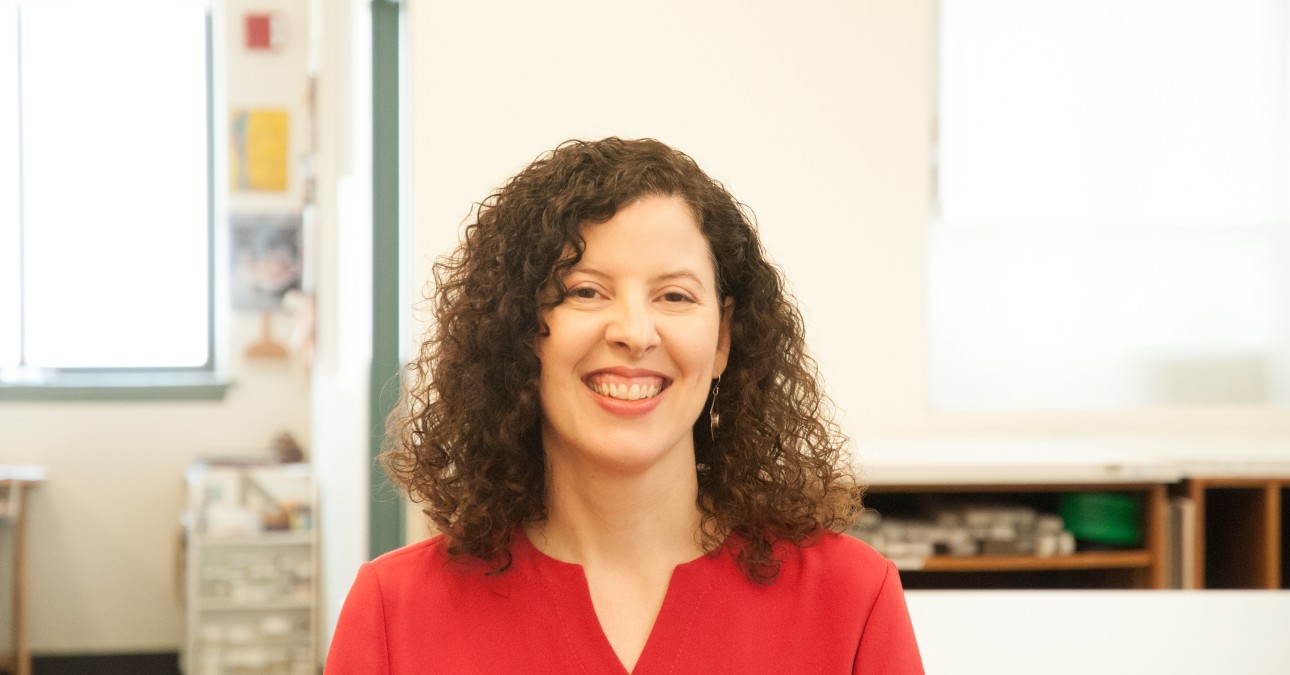 An Interview with Jessica Silverman
In our summer 2016 issue of Art-i-facts, we introduced you to Jessica Silverman, then CCAHA's Senior Paper Conservator and Preservation Consultant. In early 2019, during her eleventh year on staff, Jessica was promoted to Director of Conservation, overseeing all of CCAHA's treatment, housing, and imaging services. We chatted with Jessica about the move to this new role and her vision for CCAHA looking ahead to the future.
Can you remind us how you got your start in conservation?
Taking classes for my Associate's degree in Fine Art was really when I first became aware of conservation as a profession. A light bulb went off in the middle of an art history class where the professor was showing slides of the conservation of the Sistine Chapel ceiling and some of the challenges those conservators faced. What really caught my attention was how they were using scientific analysis combined with their understanding of the craft of Michelangelo's time to make decisions about how far to go with the cleaning. The results were so dramatic that it sparked controversy.
What brought you to CCAHA?
I started at CCAHA in 2008 as a Post-graduate Fellow. I had two consecutive years of fellowship after getting my degree at the Winterthur/University of Delaware Program in Art Conservation. My advisors strongly suggested that I apply for the fellowship here because it was such great experience. And it was!
As Director of Conservation, what is your vision for the future of CCAHA?
I think we're in a moment of change at the Center. As we continue to help our clients carry out their preservation and conservation projects, I also hope that we can dedicate more time and energy to research. I would really love to harness all the talent and creativity that we have here at CCAHA to solve problems in conservation and propose new techniques. We work in a field that relies quite a bit on research in order to move forward, and there must be ways for us to partner with science and history departments—especially at the great universities we have in the Philadelphia area—to help lead those changes. I'd like to see us have more projects like our recent NEH-funded research on ungilded daguerreotypes.
Another topic that we talk about frequently is how the Conservation Lab and our Preservation Services Office can work together more. Each brings different things to the table, and when we work together, I think we can offer even better services, maybe even some new services to clients. CCAHA staff has been doing more consulting and responding to emerging client needs. That's where I could see Conservators and Preservation Specialists coming together and offering more comprehensive consulting.
And then geographically, we're focused on expanding to serve underserved areas. Preservation Services is really leading these efforts with the Regional Heritage Stewardship Program, expanding our educational services to the Southeast, Appalachia, and Intermountain West areas of the country.
We're always changing. I think that, with such dedicated staff that have been here for such a long time, we could be very insular and just keep doing the same thing. But since we value professional development, teaching and education, we have two to three Post-graduate Fellowships every year. The Fellows are really the ones that keep us fresh. As much as they gain from us working with CCAHA's knowledgeable conservators, they give just as much back to us. They're bringing the latest technologies and advances, and they're often bringing information gleaned from other parts of the world as well. There are constantly new technologies to aid us in what we do.
The last time you were interviewed for Art-i-facts, you discussed some of your favorite projects. Have there been any recent projects that presented special challenges?
Currently, this week's challenge is a really beautiful architectural rendering that's mounted to a very thick paper board, and our Senior Paper Conservator, Heather Hendry, has been working on the report and proposal for it. After doing some testing, she discovered that the adhesive attaching the watercolor rendering to the thick board is synthetic. That really limits what we can do to reduce the adhesive and separate the drawing from the acidic board. We had to discuss it amongst ourselves and then go back to the client to offer some options. Conservation treatment is often a compromise. You present all of the options to the stewards of these artifacts and work those choices out with them. It's a partnership.