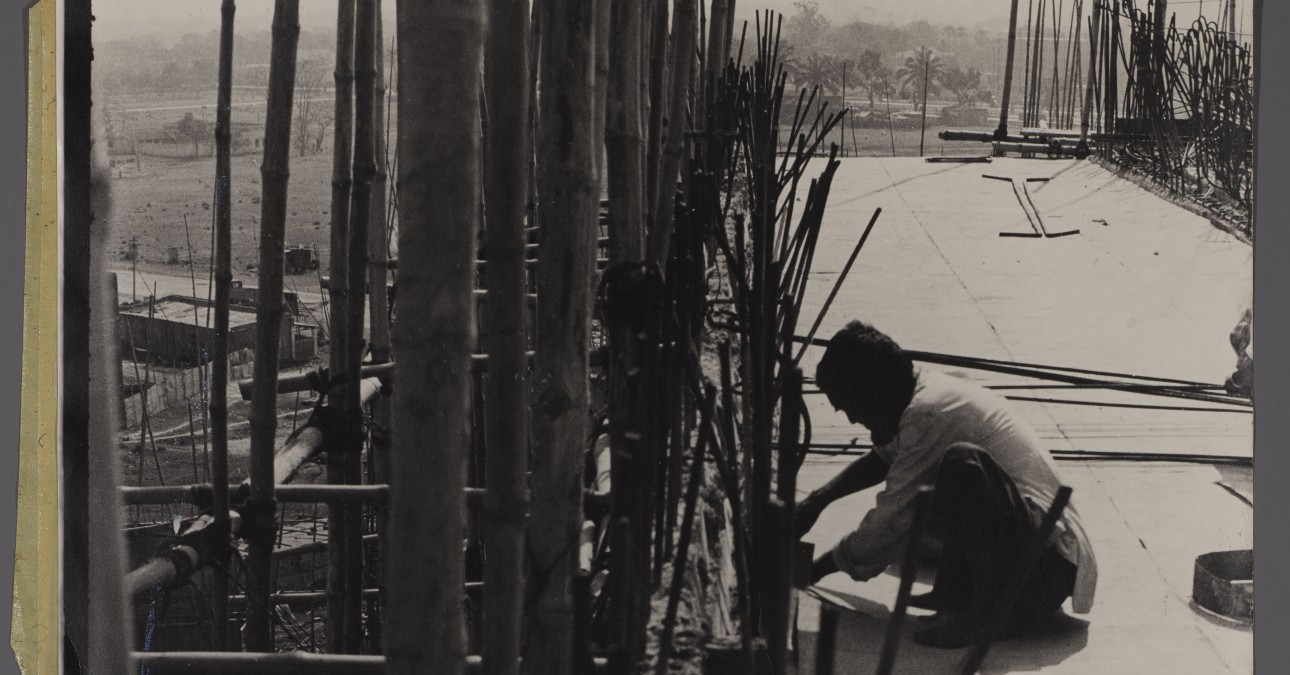 A Powerful Image: Expounding on Neil Thompson's Photos of the National Assembly Building
Earlier this month, we shared news of an exhibition, The Project of Independence, on view at the Museum of Modern Art now through July 2. The show includes an elaborate photo panorama documenting the construction of the National Assembly Building in Dhaka, Bangladesh, which was designed by Philadelphia architect Louis I. Kahn. The panorama, photographed in 1969 by Neil Thompson, was treated here at CCAHA in preparation for the exhibition, and the treatment led us to gratefully reflect on our longstanding relationship with the Architectural Archives of the University of Pennsylvania, where many of Kahn's personal artifacts are held. We invited William Whitaker, Curator and Collections Manager at the Architectural Archives, to share some of his thoughts on Kahn, the relationship between photography and architecture, and this striking image in particular.
---
As a trained architect, and as a working curator who has been embedded in a great architectural archive for over 25 years—punctuated by many happy collaborations with CCAHA—I continue to be amazed at the ways in which designers engage with photography and the photographic image. Photography was an integral part of defining what modernism in architecture looked like: think the amazing work of figures like Ezra Stoller, Julius Schulman, or Dorothea Lange. This process sometimes shifted viewers away from what modernism really was—a kind of flattening out of a larger conversation into a compelling image of lifestyle within a context of consumerism. But not always.
---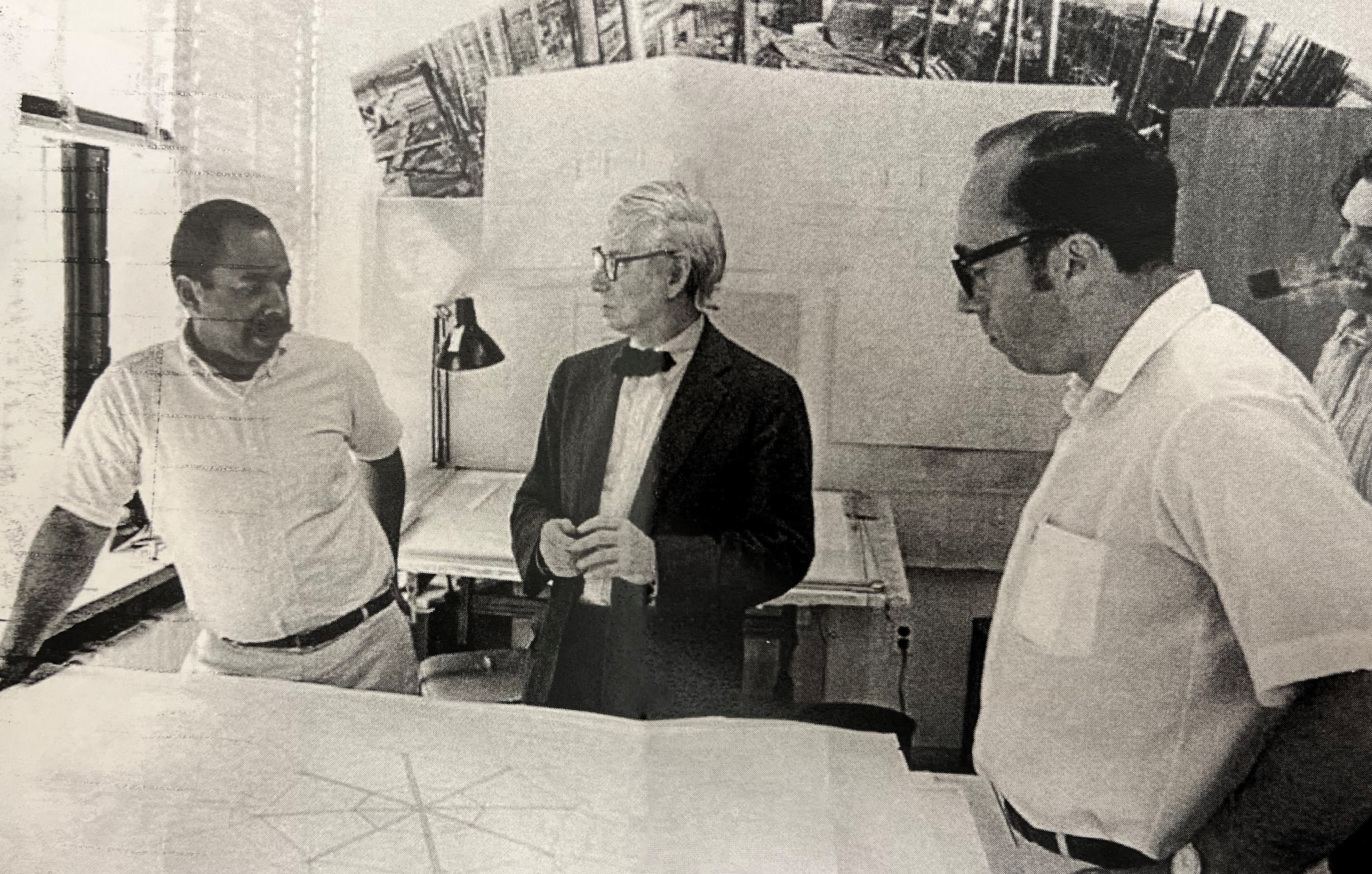 ---
In the case of the Dhaka panorama, the story is altogether different. It projects—loud and clear—a message about the nobility of work, the nobility of labor. We see a single image, but it is actually made up of a dozen or so frames that were assembled, one by one, like a course of bricks. At a distance, the panorama appears to show a large construction site on a day of rest. But moving closer in, figures emerge. First one, then another, until such time as you realize there are hundreds, if not a thousand or more individuals at work. These workers are doing the hard labor of building a people's house—a capital building for a new nation established out of the end days of British colonialism. Neil Thompson, who was working for Lou Kahn onsite in Dhaka, made it. Thompson wanted to convey to his colleagues in Philadelphia—Kahn's office was never more than two dozen employees—the immensity of what he saw and that it was not only on the shoulders of the workers to do good work, Kahn's staff needed to do so as well. It is a powerful image for this reason. Kahn's Dhaka Capital Complex is remarkable on many levels, but probably the most stunning fact was that it is largely a handmade thing, and possibly one of the last major public buildings in the world to be so.
---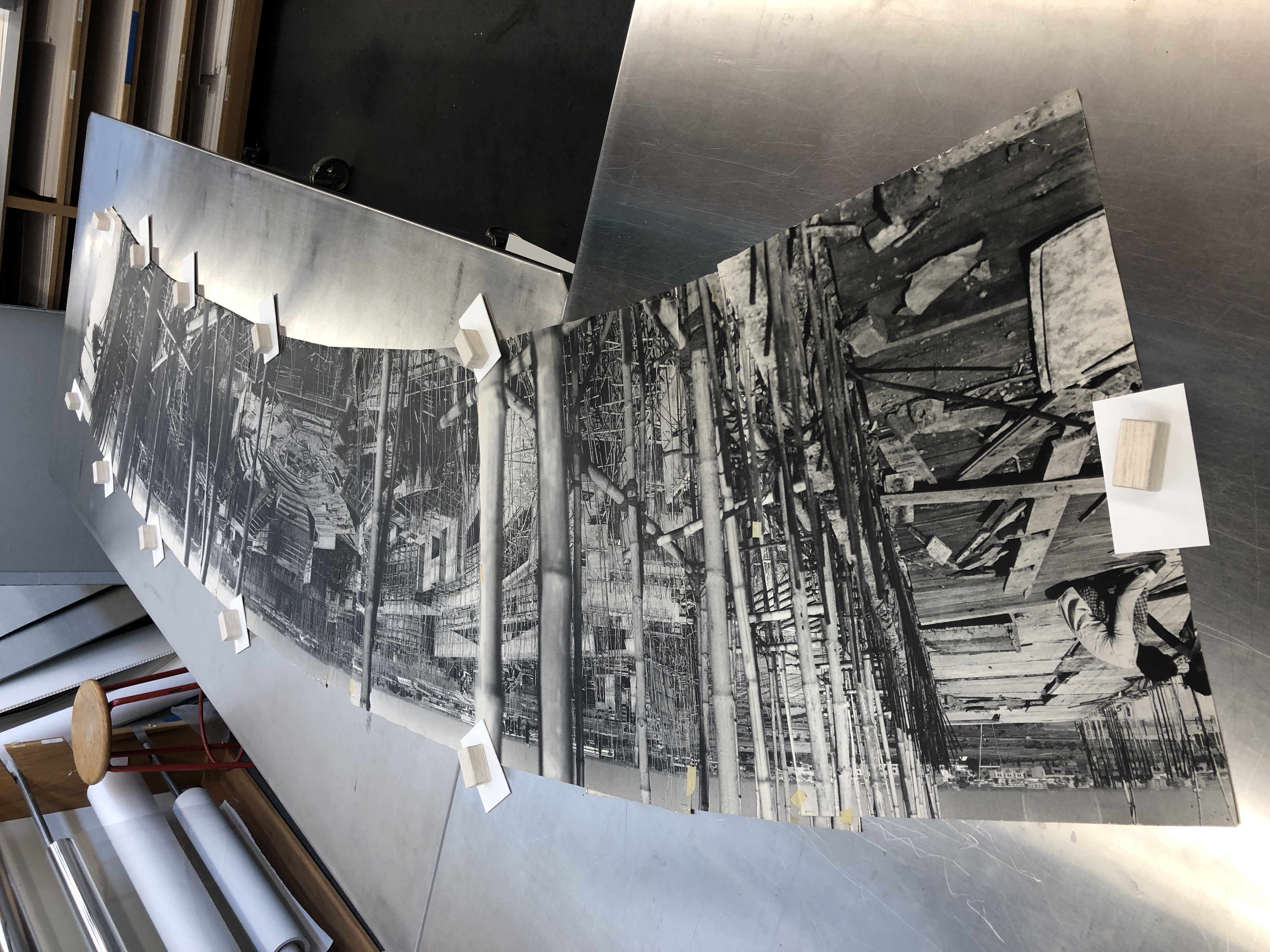 ---
A fundamental value of Kahn's work is that a building should reveal the process of its making. In the Dhaka commission, Kahn was asked to express in built form the great aspirations of a new nation and given the charge to do so with the modest means available at that time. In each and every brick, in all the areas of concrete, and landscape elements, is an affirmation of the role of each individual who contributed to the building of the capital, from the thousands of men and women who contributed their labors onsite to Kahn himself and the statesmen who challenged him with such a bold commission. Each photographic frame, the assembly into the panorama, captures the hard work of making good architecture, and as the title of MoMA's exhibit suggests, "the Project of Independence."
---
Above, from top: Detail of a single panel of the 1969 panorama of the National Assembly Building under construction in Dhaka, Bangladesh; a snapshot of Kahn and staff in his Philadelphia office, circa 1969, with panorama in background; the panorama undergoing conservation treatment at CCAHA, December 2021.