Diversity in Collections Care: Many Voices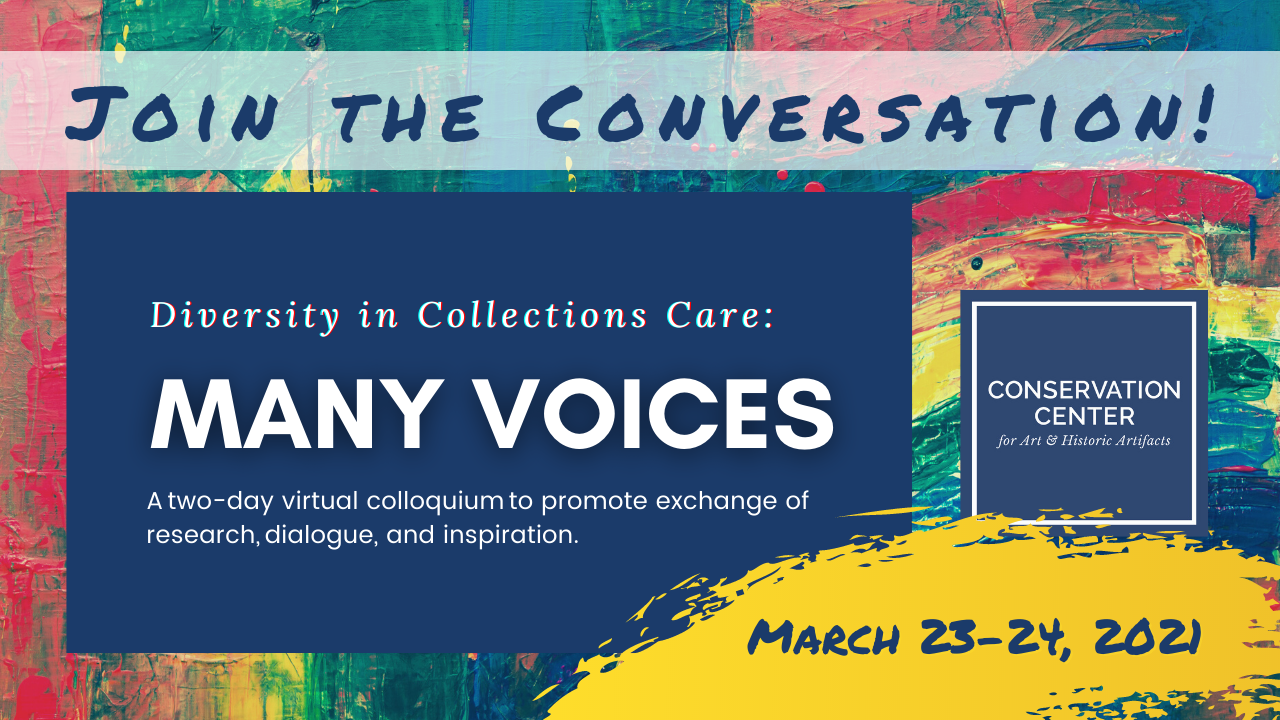 The Conservation Center for Art & Historic Artifacts (CCAHA) presents Diversity in Collections Care: Many Voices, a two-day virtual colloquium to promote exchange of research, dialogue, and inspiration.  
You may select from a variety of sessions, including:   
What is our professional collective definition of diversity? Listen to a webinar to familiarize yourself with up-to-date statistics and evolving terminology in the field.
How does heritage preservation contribute to present-day social justice work? Interact directly with leading professionals during a presentation and participatory Q&A.
What is a collection steward's role in engaging communities in the care and representation of their own cultural heritage? Listen to pre-recorded case studies and discuss the successes and challenges.
How does your institution serve its surrounding community? How can we best preserve the diverse voices embodied in our collections? Sign up to share experiences at a forum.
Follow #DiversityInCollectionsCare on Twitter for updates!
---
Featured Presentations
As Language Evolves: Rethinking How We Communicate, Sarah Pharaon, Principal, Dialogic Consulting 
Building Collections and Community in an LGBTQ Archive, John Anderies, Director, John J. Wilcox, Jr. Archives, William Way LGBT Community Center  
Considering Diversity, Moving to Equity and Inclusion in Collections Care, Fletcher Durant, Director of Conservation and Preservation at the University of Florida Smathers Libraries 
Digging Into Imaging: Conservation Photo-Documentation through the Lens of Archaeological Theory, Celeste Mahoney, Dedalus Foundation Fellow in Conservation, The Conservation Center of the Institute of Fine Arts, NYU
Documenting Cultural Care at the National Museum of the American Indian, Emma Noffsinger, Museum Specialist in Collections, and Kara Lewis, Collections Information System Administrator/Analyst, at the National Museum of the American Indian 
Ethical and Sustainable Sourcing: Stickers with a Purpose, Anita Dey, Owner, Agents to Fight Deterioration
From Intention to Intentionality: Centering Equity, Inclusion and Representation in Cultural Preservation, Leticia Gomez Franco, Executive Director, Balboa Art Conservation Center
In the Service of Our Communities: Anchorage Museum Collections-based Projects, Monica Shah, Deputy Director of Collections and Conservation, and Janet Northey, Collections Manager, at the Anchorage Museum in Anchorage, Alaska
Looking at Language with New Eyes: Reparative Description in Archival Collections, Dorothy Berry (she/hers), Digital Collections Program Manager, Houghton Library, Harvard University
The Missing Stories: How Communities Advocate for Inclusion and Belonging, Samip Mallick, Executive Director, South Asian American Digital Archive (SAADA)   
Preserving the Cultural Heritage Collections to Inspire and Engage the Future Generations at Alcorn State University, Blanche Sanders, Dean of University Libraries, Alcorn State University
Value-Based Decision Making: One Approach to Increasing Empathy in Conservation Practice, Natalya Swanson, Heritage Conservator & Mellon Fellow in Objects Conservation at the Brooklyn Museum  
Visual Representation and Why It Matters for Engaging Audiences in Archival Materials, Lauren Cooper, Center for Black Digital Research Scholarship Librarian, Penn State University 
Where Are We Now? Benchmarking the State of Equity and Inclusion in Museums, Cecilia Garibay, Principal, Garibay Group
With Care: Interpreting Enslaved Persons and Servants as Collections Stewards, 1780 – 1800, Kathryn Kosto, Executive Director, and Christina Bennett Amato, Program and Administrative Associate, Albany County Historical Association | Ten Broeck Mansion
---
Featured Panels   
Answering the Questions We Wish You Would Ask: A Panel Presentation on Conservation and Disability
Moderated by Joelle D. J. Wickens, Ph.D., Assistant Professor of Preventive Conservation, Associate Director of the Winterthur/University of Delaware Program in Art Conservation, University of Delaware and Joanna Hurd, Mellon Fellow in Paper Conservation, Conservation Center for Art & Historic Artifacts 
Panelists include:  
Sally Gunhee Kim, Postgraduate Fellow in Objects Conservation, Williamstown Art Conservation Center (WACC)       
Shaney Kille, Lead Tailor at Levi Strauss & Co., Park Royal, West Vancouver; BA in Theatre, Honours in Costume Studies, and Certificate in Visual Culture from Dalhousie University; and Master's Diploma in Curatorial Studies from Carleton University
Margalit Schindler (they/them), Preventive Conservation Graduate Fellow, Winterthur/University of Delaware Program in Art Conservation                                  
Imagining Futures: What is the Conservation Field of Our Dreams? 
Moderated by Anisha Gupta, Assistant Conservator for Archival Materials at the American Philosophical Society and Co-chair of Equity and Inclusion Committee of the AIC/FAIC  
Panelists include:  
Héctor J. Berdecía-Hernández, Assoc. AIA, Director-General, Architectural Conservator, Escuela Taller de Conservación y Restauración del Patrimonio Histórico, Institute of Puerto Rican Culture 
Kris Cnossen (they/them), Graduate Fellow, Winterthur/University of Delaware Program in Art Conservation, University of Delaware 
Anita Dey, Graduate Fellow, M.A. and C.A.S. Candidate, Class of 2021, Patricia H. & Richard E. Garman Art Conservation Department, Buffalo State College
---
Invitation for Submissions
CCAHA staff believe this Colloquium is most engaging with your collaboration! We invite you to share with the audience a diversity initiative that you support at your institution. Please tell us all how you make access to collections care more welcoming for a broad variety of populations, such as community members, trustees, staff, and more. Has your organization strengthened preservation activities to support curatorship of rich diversity in collections? What have been your successes and challenges?
Submissions should be pre-recorded videos of no more than 15-minutes in length to be streamed on March 23rd, after which you are encouraged to join the Colloquium for a live, moderated Q&A session with the audience.
Please contact Stephenie Bailey at sbailey@ccaha.org or 215-545-0613 x314 if you are interested in adding your voice to the Colloquium.