Special Exhibition at the Museum of the American Revolution Includes Objects Treated at CCAHA
A new special exhibition, Black Founders: The Forten Family of Philadelphia, opens February 11 at the Museum of the American Revolution. The exhibit spotlights James Forten and his descendants, examining their roles in the Revolution, the Philadelphia business world, and the abolition and voting rights movements.
As the Philadelphia Inquirer described him in a fall 2021 preview of the exhibition, "James Forten is not the most well-known of Revolutionary War-era patriots, but his story is an essential American story."
---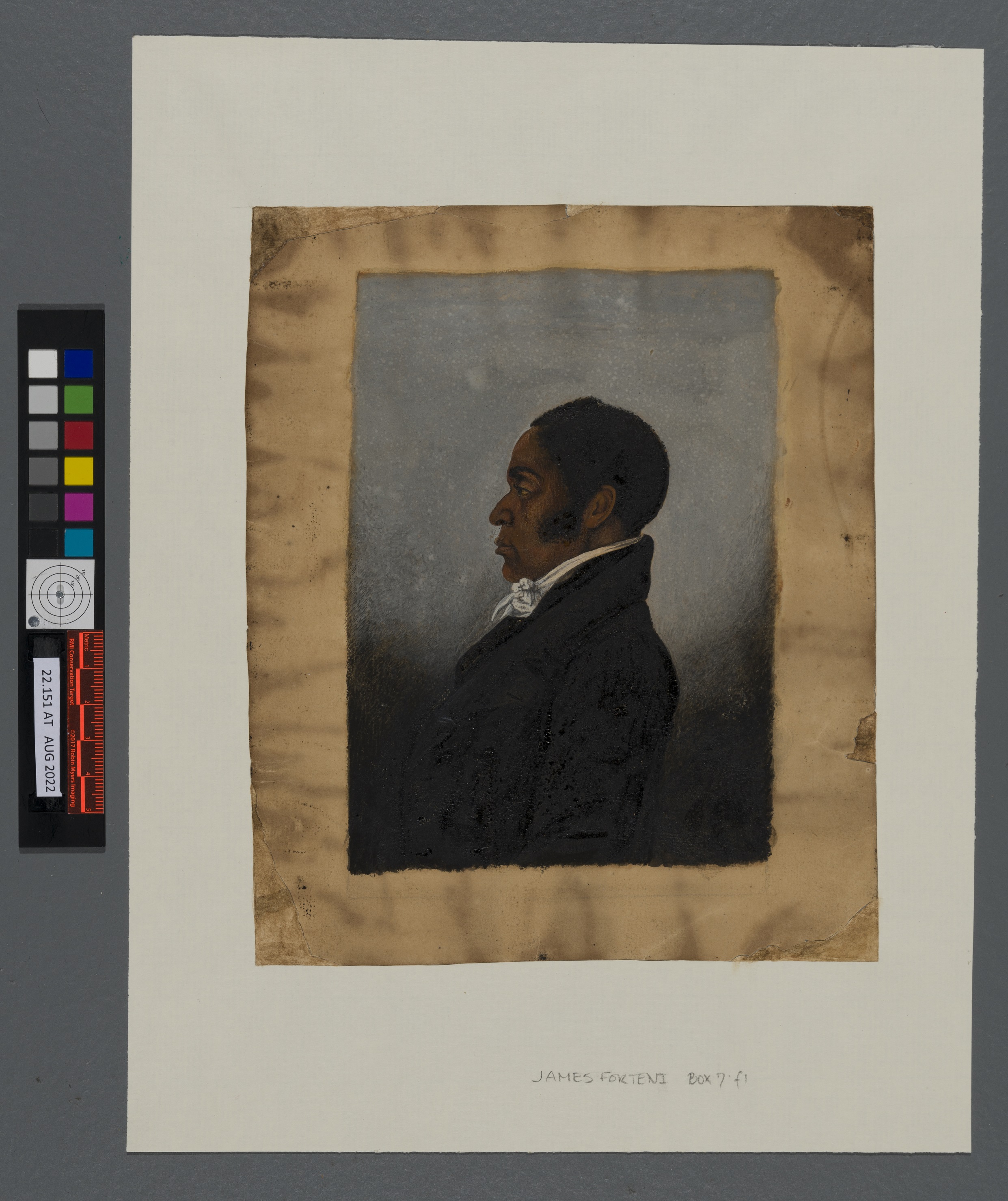 ---
Forten was born free in Philadelphia in 1766 and lived in the area known today as Penn's Landing. After serving in the Revolutionary War in his teens, he returned home and found success as a sailmaker and used his wealth and status to advance the causes of abolition and suffrage.
Black Founders focuses on the family's activities from 1776-1876, featuring more than 100 artifacts from dozens of collections. Two of those objects—a c. 1818 portrait of James Forten (above), and the Forten Family Bible, dating to 1839—received treatment at CCAHA late last year. The items are on loan for exhibition from the Historical Society of Pennsylvania and descendant Atwood "Kip" Forten Jacobs, respectively.
Some mystery surrounds the creation of Forten's portrait. It is presumably a watercolor, and the artist is unknown. The exhibit suggests that the most likely artist is family friend and painter Robert Douglass Jr., one of the first Black men to study at the Pennsylvania Academy of the Fine Arts in Philadelphia.
When it arrived at CCAHA, the portrait was examined under a stereomicroscope to identify and determine a plan to treat areas of instability. This process identified flaking and powdery spots around the subject's mouth, nostril, collar, and shoulder, which were successfully stabilized by CCAHA's paper conservation staff. The Bible arrived at CCAHA with considerable structural wear and splits, though the pages were in overall good condition throughout. The treatment by CCAHA's book conservation department involved re-backing the volume's spine and re-adhering detached pieces, as well as additional mending and surface cleaning.
In both cases, treatment aimed to mitigate deterioration and stabilize the objects for display and long-term storage. In the case of the portrait, CCAHA staff housed it for exhibition in one of our signature sealed packages, a microclimate enclosure designed to protect artifacts from particulate matter and environmental changes.
---
Black Founders: The Forten Family of Philadelphia, is on view at the Museum of the American Revolution from February 11-November 26, 2023. To learn more, visit the Museum of the American Revolution website. 
Above: Portrait of James Forten, c. 1818, from the collection of the Historical Society of Pennsylvania.