Your Donations at Work: CCAHA & Moravian Archives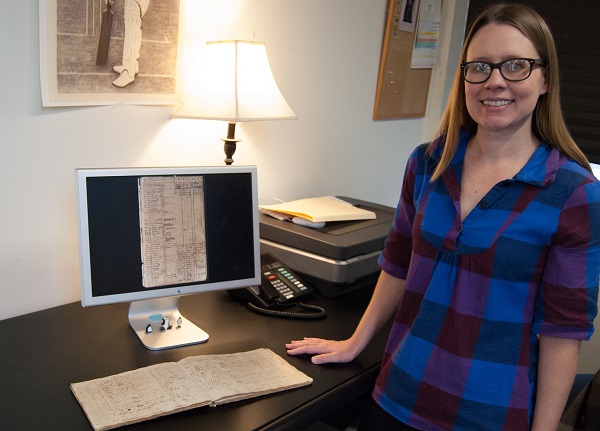 Above: Digital Imaging Coordinator Maggie Downing with a document from our ongoing digitization project with the Moravian Archives.
The work that CCAHA has done with the Moravian Archives in Bethlehem, Pennsylvania, is one example of how your contributions are critical to our outreach. Our collaboration on this project is representative of the way we partner with museums, libraries, archives, and historic sites to help them realize their dreams.

From 2010, when I first visited the Moravian Archives, we have worked with them to preserve and digitally share the paper records of the Moravian Church in the Caribbean—which include heretofore inaccessible genealogical records that document some of the earliest slave arrivals to the New World.
The Conservation Center assisted the Moravian Archives with applications for a series of grants that improved environmental conditions, funded collection surveys, created a digitization plan, and then secured two grants in the past year to begin the actual work of making these documents freely accessible to the public. As I write, images are being uploaded to the Digital Library of the Caribbean. It's taken eight years to get to this point and every minute was worth it.
But where were you involved as a supporter of the Conservation Center's work? From the moment I returned to the Center from that first visit, every minute invested in planning and grant writing was covered by the critical operating budget that we raise every year from supporters like you.
Your support makes our work possible. Please consider making a tax-deductible contribution. And thank you for understanding and appreciating the value of our work.
Laura Hortz Stanton,
Executive Director