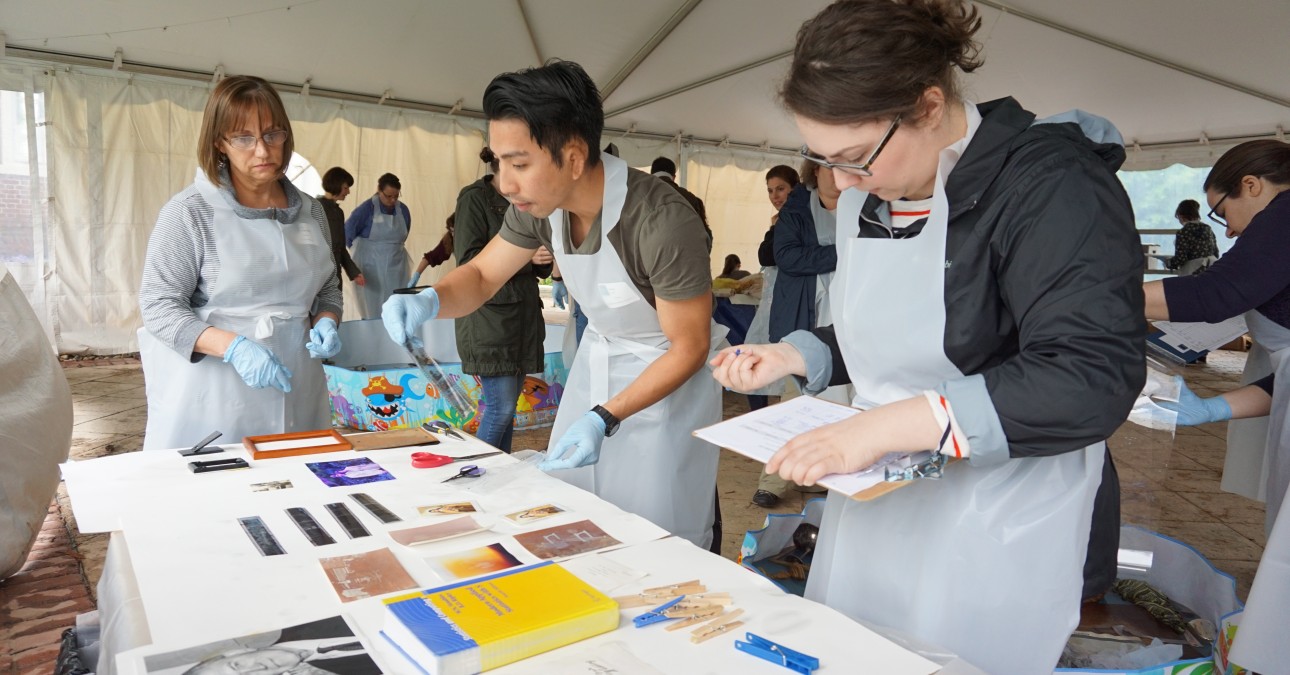 PA Cultural Resilience Network
Network-building and preparedness for Pennsylvania
The Pennsylvania Cultural Resilience Network (PaCRN) is a series of initiatives to strengthen emergency preparedness at institutions throughout Pennsylvania through training and network-building. The program was launched with funding from the Institute of Museum and Library Services and continues with support from the William Penn Foundation and the Pennsylvania Council on the Arts.
Pennsylvania Cultural Response Team
PaCRN recruited approximately 50 emergency management and cultural professionals from across Pennsylvania to volunteer for the Pennsylvania Cultural Response Team (PaCRT). They received intensive training on emergency response and recovery, health and safety protocols, and best practices for response to an emergency at a cultural institution. The team is deployed as needed to regional institutions experiencing emergencies. The team can be reached at 215.545.0613 and paculturalresponseteam@gmail.com. Click here to learn more about the members of the PaCRT Team.
Alliance for Response networks
The Alliance for Response (AFR) program connects cultural heritage and emergency response communities. A program of the American Institute for the Conservation of Historic and Artistic Works (AIC), AFR creates networks so institutions are ready when disaster strikes.
The PaCRN project established AFR networks in Northeastern Pennsylvania, suburban Philadelphia, Lancaster County, and Berks/Lehigh Counties, and supported existing networks in Pittsburgh, Philadelphia, Northwestern Pennsylvania, and Central Pennsylvania. CCAHA continues to serve as head of AFR Philadelphia.
PA Alliance for Response Networks
Alliance for Response Philadelphia (contact Samantha Forsko for more information)
Counties serviced: Philadelphia
Berks Alliance (BLV AFR) (contact AFR Philly for more information)
Counties Serviced: Berks, Lehigh, Northampton
Central Pennsylvania (CPA AFR)
Counties Serviced: Bedford, Blair, Cambria, Centre, Clearfield, Clinton, Fulton, Huntingdon, Juniata, Mifflin, Snyder, Union
Northeastern Pennsylvania (NEPA AFR) (contact AFR Philly for more information)
Counties Serviced: Bradford, Carbon, Lackawanna, Luzerne, Monroe, Pike, Schuylkill, Sullivan
Northwestern Pennsylvania (NWPA AFR)
Counties Serviced: Erie, Crawford, Forest, Warren, Venango
Pittsburgh and Southwestern Pennsylvania (AFR PGH)
Counties Serviced: Allegheny, Beaver, Fayette, Greene, Somerset, Washington, Westmoreland
South Central Pennsylvania (SCPA AFR) (contact AFR Philly for more information)
Counties Serviced: Adams, Cumberland, Dauphin, Franklin, Lancaster, Lebanon, Perry, York
Counties Serviced: Bucks, Chester, Delaware, Montgomery