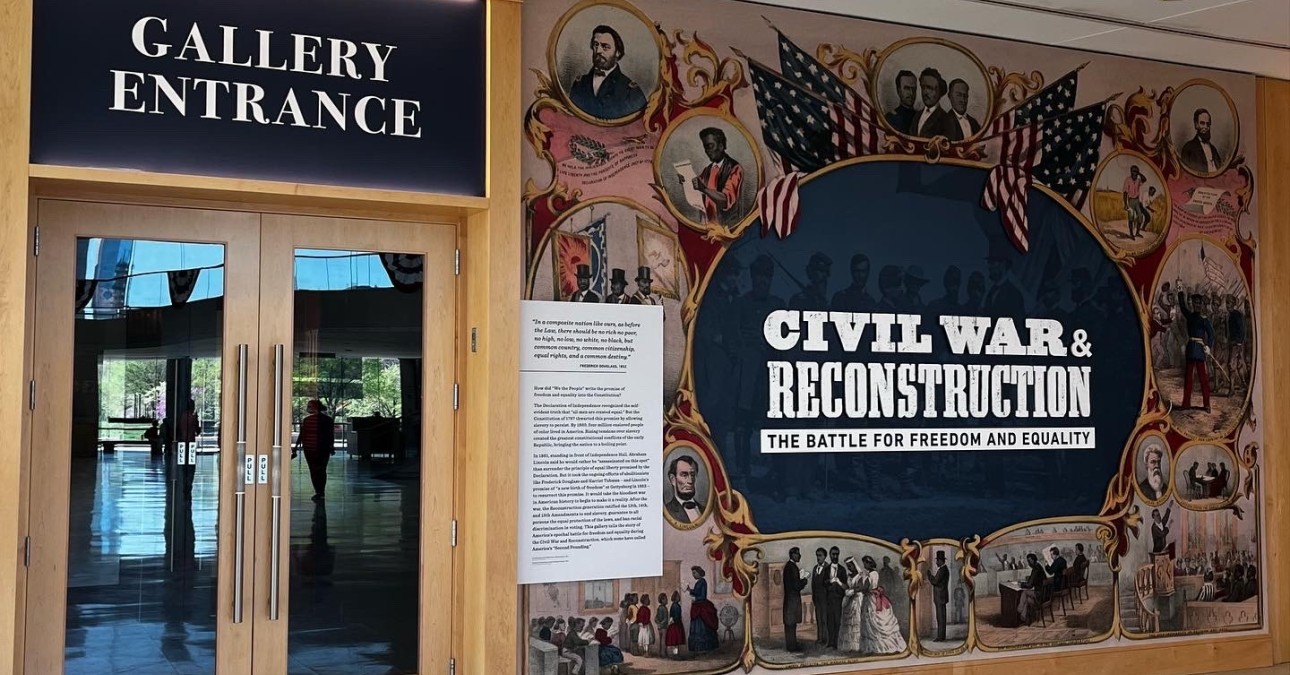 National Constitution Center Prepares Gettysburg Foundation Artifact for Exhibit
When you think of fine art and artifacts, a criminal "wanted" poster is probably not the first thing that comes to mind. But if that poster is one of the few remaining seeking those wanted for the assassination of President Abraham Lincoln, it becomes a uniquely important artifact.
"Posters were never really intended to be long-lasting," said Joanna Hurd, Associate Paper Conservator at CCAHA. "A lot of times they end up in really terrible shape, and this one seemed to be in surprisingly good shape."
Joanna treated an original John Wilkes Booth wanted poster for the National Constitution Center, a nonprofit based in Philadelphia. In May 2019, the Constitution Center opened a new permanent exhibit, Civil War and Reconstruction: The Battle for Freedom and Equality, featuring over 100 artifacts on loan from partner organizations. The poster, which consists of printed ink on paper and features three adhered albumen photographs, is on loan from the Gettysburg Foundation.
Joanna said it's always exciting to be the one who unframes something to examine the object beneath.
"When you unframe things you might discover something unexpected," she said.
And that was certainly the case with the John Wilkes Booth poster. From the outer appearance, the poster looked to have some discoloration, but seemed otherwise in good shape. However, when Joanna unframed the object, she discovered that it had been previously treated and lined.
---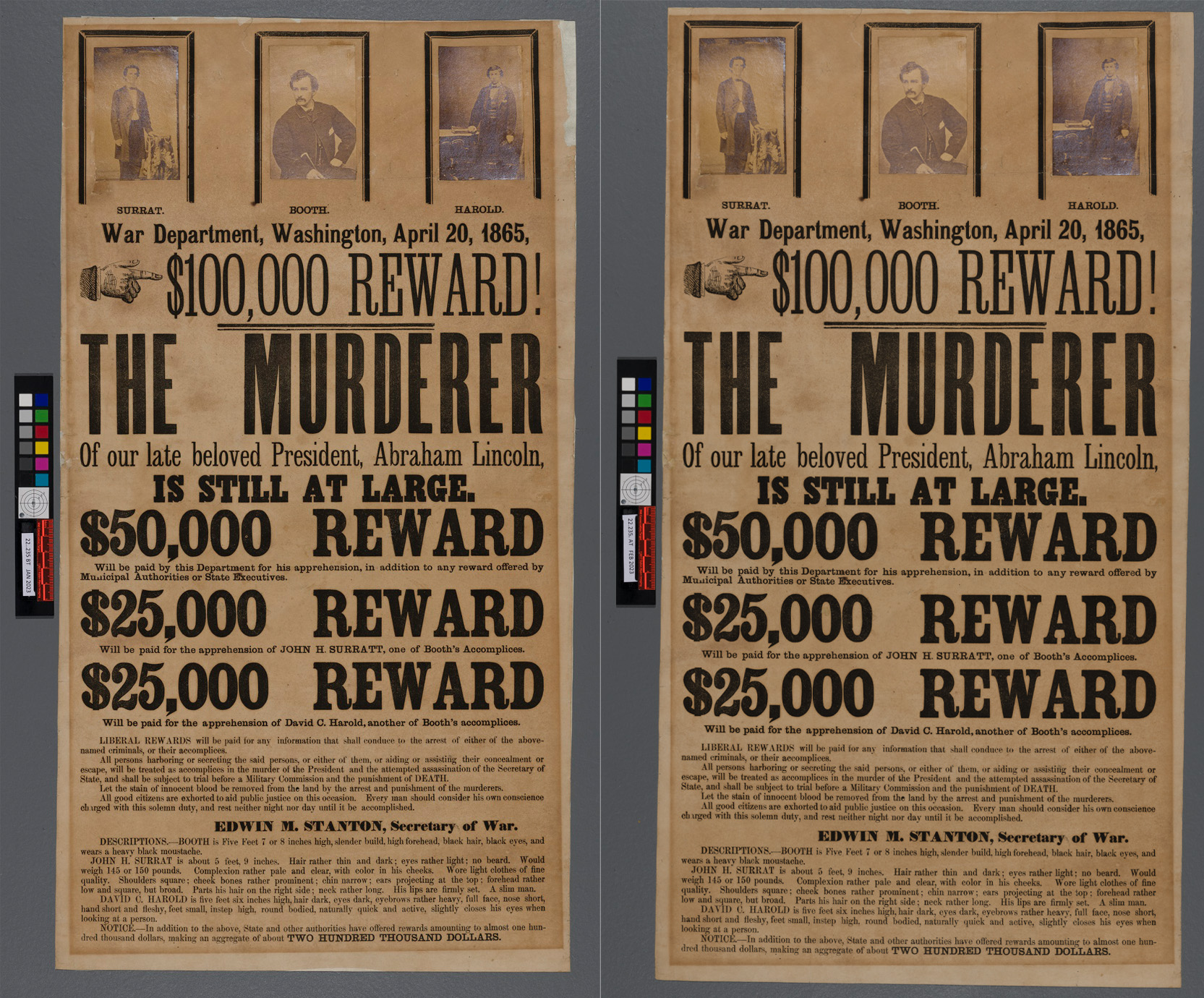 ---
There is no record of the object's previous treatment, which forced Joanna to switch into detective mode to try to determine if the prior treatment followed conservation best practices, which it seemingly did not. She discovered several bristles stuck between the lining and primary support and couldn't definitively conclude whether the object had been bathed when lined. After unframing, she also discovered tears, folds, cockling, mat burn, uneven paper fills, and some in-painting.
The poster received treatment to reduce the surface grime overall on both the paper and photos. Joanna also worked with the previous fills to try to make them blend better, in addition to reducing cockling. CCAHA's digital imaging team captured high resolution images to share with the client.
The poster also received some new housing in the form of a sealed package with an ultraviolet filtering acrylic glaze.
---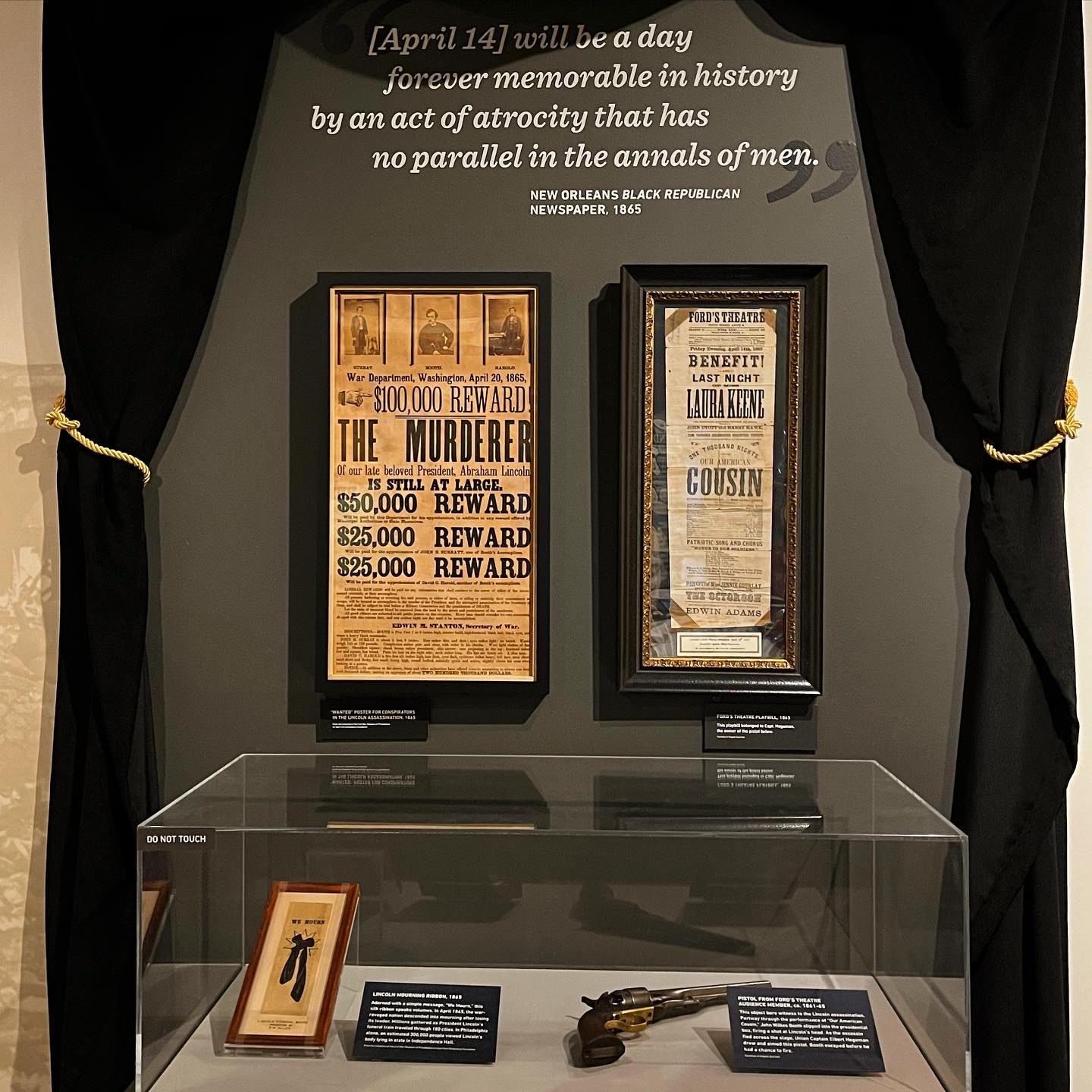 ---
"We find it's very beneficial to have that extra layer of protection," said Joanna. "The sealed package slows down the changes that will reach the object." She also noted the sealed package keeps out any pests who might be attracted to the starches and proteins in the object.
Joanna was pleased to work with such a unique object.
"I think this one is fascinating, because the object is fascinating," said Joanna. "It's not super common to have a poster that you want to invest in long-term care."
The men featured on the poster in addition to John Wilkes Booth are John H. Surrat and David E. Herold. All three were involved in a detailed plot to assassinate Lincoln and other members of the U.S. Government. The poster offers a $100,000 reward for "the MURDERER of our late, beloved President, Abraham Lincoln." Booth was ultimately found hiding in a rural Virginia barn and suffered a gunshot wound during a standoff with authorities. He died the next day.
---
Photos, from top: Gallery entrance to the National Constitution Center's permanent exhibit, Civil War and Reconstruction, which includes an original John Wilkes Booth wanted poster; a before-treatment reference photograph showing the extent of wear beside an after-treatment reference photograph showing the treated poster; the poster (top left) in a display with other related objects in the National Constitution Center gallery.