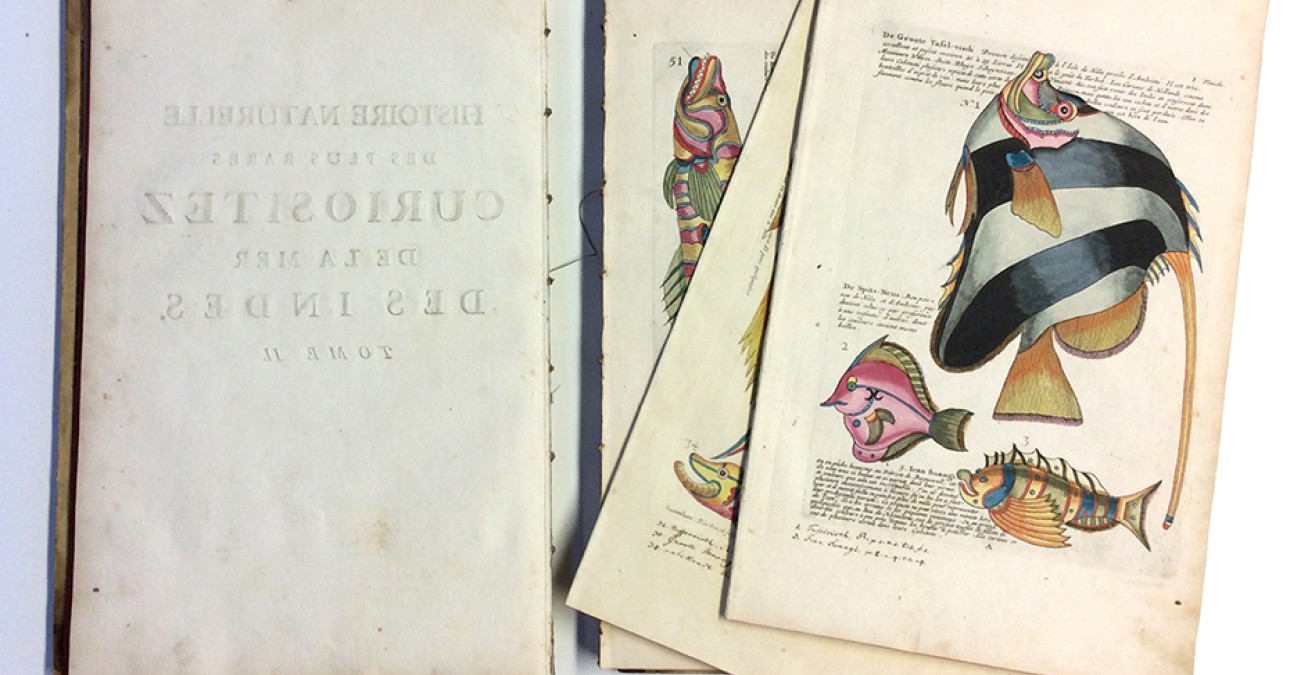 Treatment FOCUS: Louis Renard's 'Poissons, Ecrevisses et Crabes...'
First published in Amsterdam around 1719, Louis Renard's Poissons, Ecrevisses et Crabes... is notable for being the earliest full color guide to fishes and other sea creatures. According to its title page, the book took nearly thirty years to complete, and when it was done it featured 100 plates with 460 beautifully illustrated copper engravings.
Renard had an unusually diverse career, working as a publisher and bookseller, medicine salesman, and, allegedly, a British spy. While his book purports to depict marine life of the East Indies, the scientific accuracy of most of its illustrations is debatable; the book becomes gradually more surreal as the reader progresses, and even features a mermaid in its final pages. As the Biodiversity Heritage Library notes, "all of the species depicted... received some level of artistic embellishment—and approximately 9% are completely fantastical."
First issued in an edition of 100 copies, a second run of 100 was later released in 1754, compiled in part from incomplete parts of extant first edition copies. The book's small edition and odd provenance means that it remains extremely rare—only three copies have appeared at auction since 1900, and most known copies are in the collections of institutions. It's one of these second edition copies that was recently brought for treatment to CCAHA by the Academy of Natural Sciences of Drexel University in Philadelphia.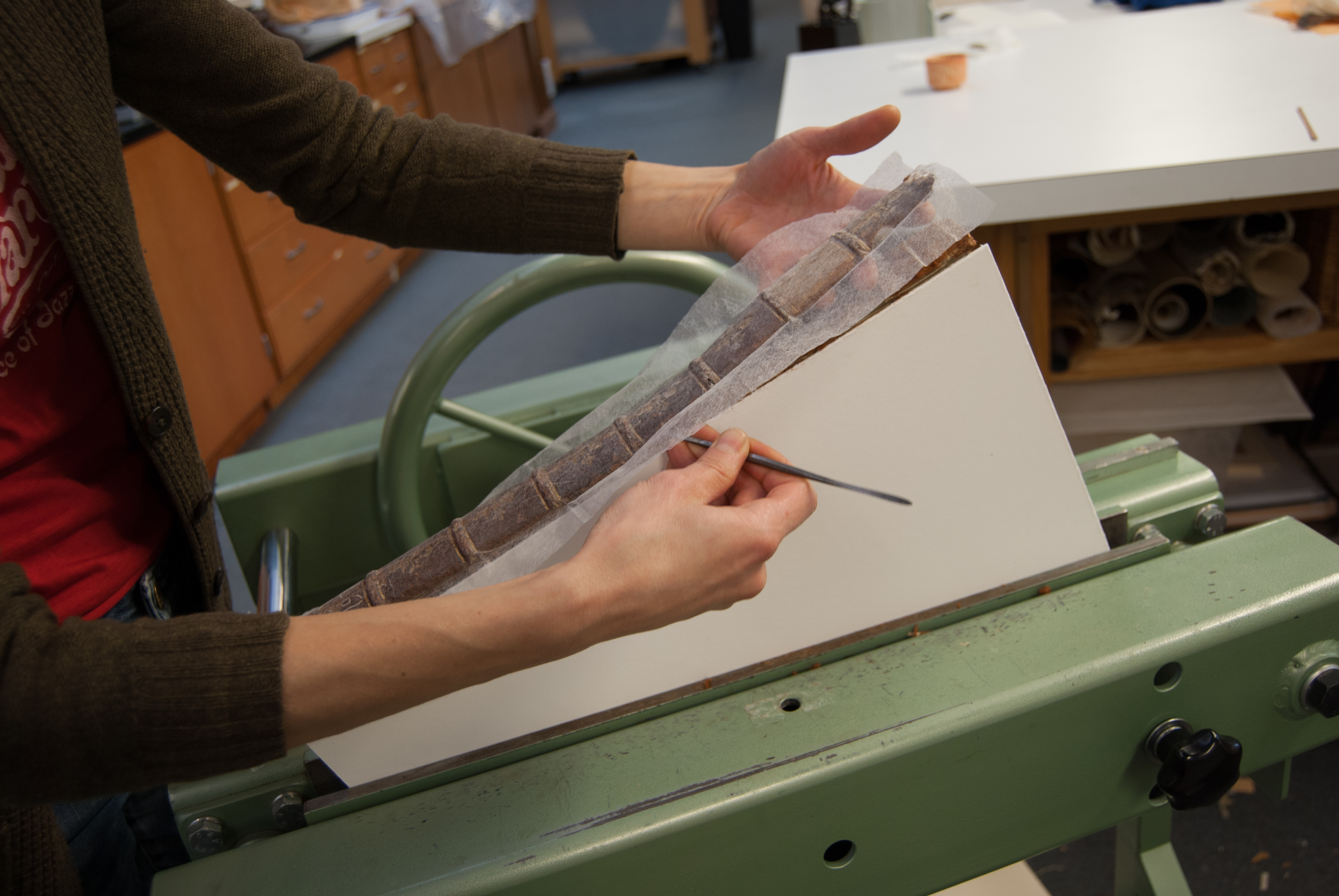 This copy arrived with its cover boards detached, broken sewing and sewing supports in the middle of the volume, and some loose and detached sections. The spine leather had a significant split down its center corresponding with the area of broken sewing, many vertical creases, and some material loss.
CCAHA Book Conservator Amber Hares faced the fragile spine leather (above) with mulberry paper and hydroxypropyl cellulose so she could safely lift it from the spine of the text block. She cleaned the spine, consolidated it, reinforced the sewing supports with ramie fiber tapes, and reattached the loose or detached sections with linen thread, using the original sewing pattern. She then rebacked the volume with cotton textile and mulberry paper and adhered the original spine leather over the new material.
In addition to the colorful surprises on the book's pages, the treatment uncovered an interesting detail of the book's manufacture. While lifting the spine lining, Amber discovered a waste paper lining with printed German text (below), which was photo documented prior to removal and retained for the client once removed.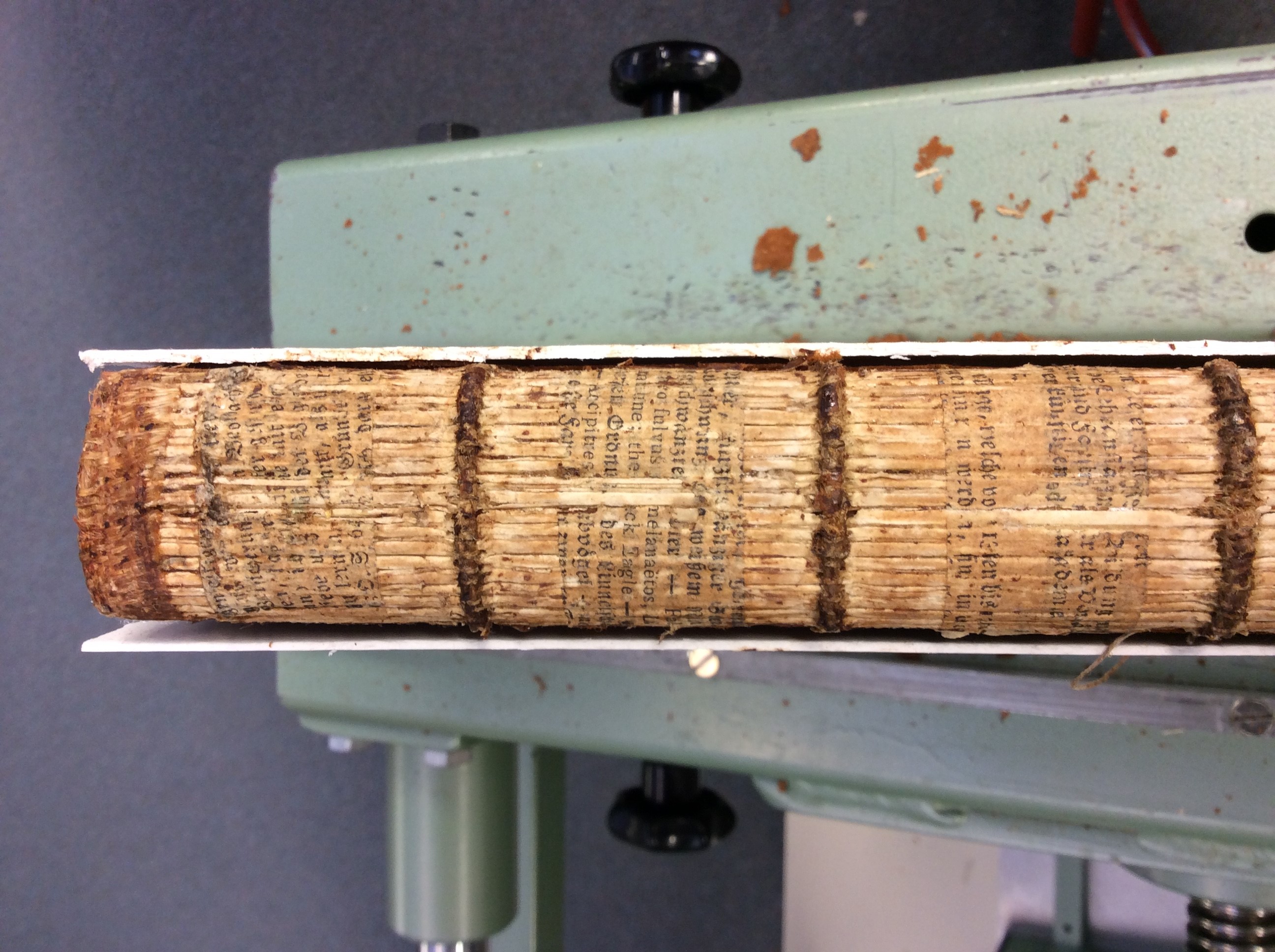 Finally, after the sewing was repaired and the boards reattached, the leaves were surface cleaned and vulnerable edge tears were mended. With the integrity of the structure stabilized, this fascinating, colorful volume can now be safely shared with others.
...
Read more about Louis Renard and this remarkable guidebook at the Biodiversity Heritage Library blog: Renard's Book of Fantastical Fish
Read an interesting article from The Newberry about the history of waste paper lining:
Nothing Goes to Waste: Print and Manuscript Pieces Recycled for Bindings